Barrel, Outdoor & Indoor Sauna Maintenance
Barrel, Outdoor & Indoor Sauna Maintenance
We know you love sauna because it offers tremendous health benefits. Taking an assessment and doing routine sauna maintenance ensures you can use your equipment year-round. The first step is to begin with a high-quality Backcountry Recreation construction to ensure your sauna lasts for many years. The next step is to use our mid-winter tips to keep your sauna working smoothly and efficiently.
How to Maintain Your Sauna
Indoor sauna:
While an indoor sauna doesn't require protection from the elements, it's still imperative to do basic routine maintenance.
Some indoor sauna maintenance tips you can use:
Vacuum out your sauna periodically to remove any dust or debris.
Use a mild solution of baking soda and water as a cleaning solution. Use a soft cloth to rub and clean any perspiration or dirt spots gently.
Sit on a towel during the sauna session to help prevent sweat or dead cells staining the wood.
Once each year, take fine sandpaper and sand down and clean your benches to easily remove stains and give you a new, smooth finish. If you want to match the sauna with your décor, ensure you select an appropriate finish from your local paint store. While drying and staining, make sure that the area is well-ventilated.
Outdoor Sauna: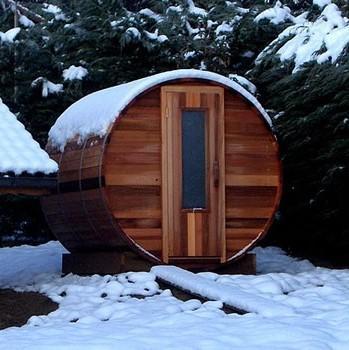 Backcountry Recreations barrel sauna construction only uses durable materials, so your equipment lasts for years. However, maintaining your sauna is still important as they're exposed to light, wind, rain, and harsh weather year-round. Use our tips below:
Sit on a towel during the sauna to help reduce or prevent sweat or dead cells from staining the wood.

Vacuum out the sauna every few uses to prevent dust, dirt, or tracked-in leaves.

If you live in a wet or snowy climate, check your unit every few months for water seepage. Tighten barrel bands, especially after you first assemble your barrel sauna. If the bands are loose, add extra staves to seal the exterior tightly.

Backcountry Recreation uses both functional and beautiful wood. To make the exterior wood last for years, pressure-wash it. It can help get rid of dust, debris and mildew.

You can clean out the unit by gently spraying it with water and using a mild cleaning solution after every few uses.

Although our wood will age well, you can stain the exterior with a UV inhibitor stain to help ward off sunlight's fading effects.

Periodically check your sauna stones for any cracking. Although designed to last, the change in heat over time can lead to cracks. We carry replacement stones if you need them.

Never stain or varnish the interior of a barrel sauna, as that will affect the sauna's efficiency and cause unhealthy vapors and breathing conditions.
Every Few Uses:
Wipe away any perspiration spots. Use warm water if necessary.

Vacuum out dust.

Gently rinse out the unit and use a mild cleaner as necessary.
Annually:
Check barrel sauna stones for cracking.

Power wash the exterior (on outdoor models).

Check the outdoor sauna exterior for any loose parts or wear.

Sand down benches and any stains with fine-grain sandpaper.

Check for weathered spots or chipping if you have stained your outdoor sauna. Re-stain or patch as needed.
For more details on our available barrel sauna models and their upkeep, give us a call at 877-446-3565 or email info@backcountryrecreation.com
---